Audiovisual Performance: The Promise of a Field
Saturday, November 10, 2018 from 22:30 to 23:30
Zoukaz Studio , Beirut, Lebanon
Tickets
Description
Zoukak Sidewalks 2018 - The Festival presents:
The Promise of a Field
Audio-visual performance by Maya Chami
Music by Ziad Nawfal
Saturday 10 November at 10:30 p.m. at Zoukak Studio
Free Entry.
40 minutes.
In his book 'The Architecture of Happiness', Alain de Botton describes the importance of a field in the following manner: "We owe it to the fields that our houses will not be the inferiors of the virgin land they have replaced. We owe it to the worms and the trees that the buildings we cover them with will stand as promises of the highest and most intelligent kinds of happiness".
Around the age of maturity, the phenomenon of becoming interested in "building that house in the village, overlooking a terrain of two hundred trees", or "reclaiming the field abandoned since 1982", becomes an urgent preoccupation which consumes a substantial chunk of time.
I have always visited fields in my dreams. In those, I sometimes encounter a shepherd and his dog; a friend gains access to my full personal archive; I stumble across a venue that resembles a school and serves as a center of propaganda for super power countries...
In this audio-visual performance, I set about illustrating these fields.

Audiovisual Performance by Maya Chami
With Music by Ziad Nawfal
Artist's Biography
Maya Chami is a designer and a digital artist, she works with prints and live audio-visual animations as well as videos as part of scenographies.
أرصفة زقاق - المهرجان ٢٠١٨يقدّم:
أرض وعرة وكلب جعاري
عرض سمعي-بصري لمايا الشامي
موسيقى زياد نوفل
السبت ١٠ تشرين الثاني الساعة ١٠:٣٠ مساءً في استديو زقاق
الدخول مجاني.
٤٠ دقيقة.
عن العرض:
في كتابه «عمارة السعادة»، يشير آلاندي بوتون إلى أهمية الحقول قائلاً: «الفضل للحقول إذ تسمى بيوتنا إلى مستوى الأرض البكر التي استبدلوها. الفضل للديدان والأشجار بأن المباني التي تحجبها ستنتصب وعوداً لنوع أنبل وأذكى من السعادة».
حول سن النضوج، يصبح همّ «بناء ذلك المنزل في القرية، المطل على أرض مزروعة مئتي شجرة»، أو«إصلاح الحقل الذي تم التخلي عنه منذ عام ١٩٨٢»، انشغالاً عاجلاً يستهلك قسماً كبيراًمن الوقت.
ما إنفكيت أزور الحقول في أحلامي. ألقى تارةً راعٍ وكلبه وطوراً صديق حصل على أرشيفي الشخصي الكامل؛ ويحصل أن أجد نفسي في مكان يشبه مدرسة تحولت إلى مركز بروباغاندا لدول القوى العظمى... في هذا العرض السمعي-البصري، أعيد رسم هذه الحقول.
عن مايا الشامي
مايا الشامي مصمّمة وفنانة رقميّة، تعمل في مجال المطبوعات والتحريك السمعي-البصري ومجال الفيديو كجزء من سينوغرافيا.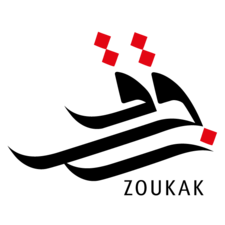 Organizer
Zoukak Theater Company, created in 2006, is a non-hierarchical structure, dedicated to theatre practice as a social and political involvement, with a belief in theatre as a space for common reflection and in collectivity as a position against marginalizing systems.
Zoukak's productions are created in series of common research raising questions around certain themes: gender -"Silk Thread" (2012), religion and power - "Lucena: Obedience Training" (2013), Lebanese history - "Perform Autopsy" (2013) and "Heavens" (2014), death and immortality - "He Who Saw Everything" (2015) and "Death Comes Through the Eyes" (2014), childhood and violence - "School Acts" (2014), "Organs Tissue and Candy Games" (2014) and "Innocent Violence" (2016), Migration - "The Battle Scene" (2015) among others… Their work has been shown in several cities in the Middle East, Europe, the United States, Africa and South Asia (MUCEM museum, 62 Center for Theatre and Dance, The New York Public Library, Ibsen Center, ITFOK, The Battersea Arts Center, The Southbank Center…).
They have been commissioned by international festivals, theatres and universities to create original work: NYUAD's Performing Arts Center, UAE; Krefeld/Monchengladbach City Theaters, Germany; Cynthia Woods Mitchell Center, University of Houston, Texas; Theaterfestival Schwindelfrei Mannheim, Williams College, Massachusetts; LIFT and The Royal Court Theatre, London among others. Zoukak members have participated in residencies, panels and given workshops and lectured at universities and in non-academic contexts, in the Middle East, Europe, the United States and Africa.
In addition to that Zoukak has been working with marginalized communities across Lebanon for the last ten years (disabled children, women victims of domestic violence, incarcerated youths, individuals affected by war, including refugees…), applying theatre on various levels. The company developed a specific approach to psychosocial interventions of drama therapy and socially engaged theatre, providing workshops and training programs to diverse groups, and devising performances in different Lebanese regions and in various contexts locally and abroad, including Calais' migrants and refugee camp, in France and in refugee camps in Serbia.
Zoukak endeavours to develop an environment of dialogue and reflection around the performing arts in Lebanon and to provide artistic development and international touring opportunities for local artists. The company produces collaborations, residencies and events with international artists in the company's studio, curating since 2013 "Zoukak Sidewalks", an international performance platform and "Focus Liban" a showcase for the diffusion of work by local emerging artists.
Zoukak is three-time AFAC award grantee, in 2012 the company received the Ibsen Scholarship award and in 2014 the Anna Lindh Foundation's Euromed Dialogue Award for social resilience and creativity.