Designing the Artist's Experience: Christopher Hibma (Sundance Institute) in Conversation with Omar Abi Azar (Zoukak)
Wednesday, November 7, 2018 from 19:00 to 20:00
Zoukak Studio , Beirut, Lebanon
Tickets
Description
Zoukak Sidewalks 2018 - The Festival presents:
Designing the Artist's Experience
Public Conversation
Christopher Hibma (Sundance Institute) with Omar Abi Azar (Zoukak)
Wednesday 7 of November at 7:00 p.m. at Zoukak Studio, Beirut
60 min.
Free Entry.
Join Sundance Institute Theatre Program Producing Director Christopher Hibma and Omar Abi Azar for a conversation about how environments for Sundance artists are designed. Learn more about how creativity and community are expressed both in physical space and in the relationships producers have with artists. Introduction by Jumana Al-Yasiri.
Artist's Biography
Christopher Hibma is a dedicated producer with over 20 years of nonprofit leadership in program development and organizational management, and an expertise in facilitating partnerships across cultural and institutional divides and between public and private sectors. Since joining the Sundance Institute Theatre Program in 2005, he has overseen the Program's diverse and expanding roster of artist support activities in the U.S. and internationally. In addition to producing Sundance's annual flagship Lab in Utah and its ongoing residencies in partnership with MASS MoCA and the Ucross Foundation, he has implemented numerous niche residencies, director retreats in France with LUMA Foundation, and play development intensives in East Africa. He is currently producing the Theatre Program's international engagement with the Middle East/North Africa (MENA) region, including Labs & Residencies in Morocco and Germany. Prior to joining Sundance Institute, he served as Managing Director for Theater Latté Da in Minneapolis as well as General Manager for the Minnesota Boychoir. He has been on the directing staffs for Broadway's The Lion King and numerous productions at Minneapolis' Guthrie Theatre. He has worked as a graphic designer for a boutique firm in the Twin Cities, and maintains an active interest in design, urban planning and architecture. He lives with his husband and little girl in Brooklyn.
أرصفة زقاق – المهرجان ٢٠١٨ يقدّم
تصميم التجربة الخاصة بالفنان
محادثة فنية
كريستوفر هيبما (معهد صندانس) مع عمر أبي عازار (زقاق)
الأربعاء ٧ تشرين الثاني الساعة ٧ مساءً في استديو زقاق، بيروت
٦٠ دقيقة
الدخول مجاني
شاركوا في حوار مع كريستوفر هيبما، المدير الإنتاجي لبرنامج المسرح الخاص بمعهد صندانس، وعمر أبي عزار، العضو المؤسس في فرقة زقاق، عن كيفية تصميم البيئات الخاصة بفنّانين معهد صندانس. تعلموا أكثر عن كيفية التعبير عن الإبداع والمجتمع في المساحة الحسّية وفي العلاقات التي تجمع المنتجين بالفنّانين. تلقي جمانة الياسري المقدمة.
كريستوفر هيبما
كريستوفر منتج متفانٍ، يتمتع بعشرين عام من القيادة للمنظمات التي لا تبغ الربح في مجال تطوير البرامج والإدارة التنظيمية، إضافة إلى الخبرة في مجال تيسير الشراكات عبر الإتقسامات الثقافية والمؤسساتية والقطاعات العامة والخاصة. منذ إنضمامه لبرنامج المسرح الخاص بمعهد صندانس في العام 2005، أشرف على الأنشطة المتنوعة والمتوسعة للبرنامج التي تدعم الفنانين في الولايات المتحدة وعلى المستوى الدولي. بالإضافة إلى إنتاج المختبر السنوي الرائد للصندانس في يوتاه، والإقامات المستمرة بالشراكة مع متحف ماساتشوستس للفن المعاصر ومؤسسة Ucross، قام بتنفيذ العديد من الإقامات المتخصصة والمعتزلات الخاصة بالمخرجين في فرنسا مع مؤسسة لوما، إضافة إلى برامج تكثيفية لتطوير المسرحيات في شرق أفريقيا. يعمل في الوقت الحالي على إنتاج المشاركة العالمية لبرنامج المسرح في منطقة شمال أفريقيا والشرق الأوسط، بما في ذلك المختبرات والإقامات في المغرب وألمانيا. قبل الإنضمام إلى معهد صندانس، عمل كمدير تنظيمي لمسرحDa Latté في مينيابوليس، إضافةً إلى كونه المدير العام لجوقة الصبيا في مينيسوتا. عمل ضمن طاقم الإخراج لعرض The Lion King في برودواي، إضافة إلى العديد من الإنتاجات في مسرح Guthrie في مينيابوليس. وعمل كمصمم جرافيك لشركة في منطقة مينيابوليس – سانت بول. لا زال يتمتع بإهتمام بالتصميم، التخطيط المدني والهندسة المعمارية. يقيم مع زوجه وإبنتهم الصغيرة في بروكلين.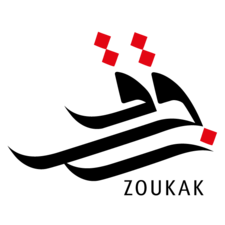 Organizer
Zoukak Theater Company, created in 2006, is a non-hierarchical structure, dedicated to theatre practice as a social and political involvement, with a belief in theatre as a space for common reflection and in collectivity as a position against marginalizing systems.
Zoukak's productions are created in series of common research raising questions around certain themes: gender -"Silk Thread" (2012), religion and power - "Lucena: Obedience Training" (2013), Lebanese history - "Perform Autopsy" (2013) and "Heavens" (2014), death and immortality - "He Who Saw Everything" (2015) and "Death Comes Through the Eyes" (2014), childhood and violence - "School Acts" (2014), "Organs Tissue and Candy Games" (2014) and "Innocent Violence" (2016), Migration - "The Battle Scene" (2015) among others… Their work has been shown in several cities in the Middle East, Europe, the United States, Africa and South Asia (MUCEM museum, 62 Center for Theatre and Dance, The New York Public Library, Ibsen Center, ITFOK, The Battersea Arts Center, The Southbank Center…).
They have been commissioned by international festivals, theatres and universities to create original work: NYUAD's Performing Arts Center, UAE; Krefeld/Monchengladbach City Theaters, Germany; Cynthia Woods Mitchell Center, University of Houston, Texas; Theaterfestival Schwindelfrei Mannheim, Williams College, Massachusetts; LIFT and The Royal Court Theatre, London among others. Zoukak members have participated in residencies, panels and given workshops and lectured at universities and in non-academic contexts, in the Middle East, Europe, the United States and Africa.
In addition to that Zoukak has been working with marginalized communities across Lebanon for the last ten years (disabled children, women victims of domestic violence, incarcerated youths, individuals affected by war, including refugees…), applying theatre on various levels. The company developed a specific approach to psychosocial interventions of drama therapy and socially engaged theatre, providing workshops and training programs to diverse groups, and devising performances in different Lebanese regions and in various contexts locally and abroad, including Calais' migrants and refugee camp, in France and in refugee camps in Serbia.
Zoukak endeavours to develop an environment of dialogue and reflection around the performing arts in Lebanon and to provide artistic development and international touring opportunities for local artists. The company produces collaborations, residencies and events with international artists in the company's studio, curating since 2013 "Zoukak Sidewalks", an international performance platform and "Focus Liban" a showcase for the diffusion of work by local emerging artists.
Zoukak is three-time AFAC award grantee, in 2012 the company received the Ibsen Scholarship award and in 2014 the Anna Lindh Foundation's Euromed Dialogue Award for social resilience and creativity.