Masterclass : Starting with the Actor
Thursday, November 8, 2018 from 11:00 to 15:00
Université Saint Joseph - Institut d'Etudes Scéniques Audiovisuelles et Cinématographiques (IESAV), Beirut, Lebanon
Tickets
Description
Zoukak Sidewalks 2018 - The Festival presents:
Starting with the Actor - creating dramatic text in response to actor improvisation
MasterClass
By Catherine Coray
Thursday 8 November 2018 from 11:00 p.m. to 3:00 p.m. at Université Saint Joseph
4 hours masterclass
Participation fee: 25,000 L.L.
Reserve your place through ihjoz.com
For more info: 01/570676
There is a vital relationship between the impulses and imagination of the actor and those of the playwright. This workshop is for actors, playwrights and directors who would like to explore writing scenes and monologues inspired by improvisational work and specific exercises designed to prompt behavior that can lead to character/relationship/text development. The session will begin with a physical warmup--participants should come dressed and prepared to move, and have writing materials: paper/journal and pen/pencil, laptop or tablet (not phones.)
Artist's Biography
Catherine Coray has been on the faculty of NYU Tisch School of the Arts since 1991, and teaches and collaborates with artists in Austria, Belarus, Chile, Cuba, Egypt and Lebanon. She also teaches at NYU in Abu Dhabi and served as the interim Director of the NYUAD Theater Program, 2016-2017. Previously, she was the director of hotINK at The Lark, which introduced New York audiences to new plays from over 50 countries; she now is the Program Director for The Lark Middle East-US Playwright Exchange. In 2014, she curated In The Same Room, a conference of Middle-Eastern Women in Theater at the NYU Abu Dhabi Institute in NYC. She also convened the 2016 Middle East America gathering at The Lark, and in November 2016 curated and co-produced a festival at the NYU Abu Dhabi Arts Center in November 2016 called Arab Voices: here/there/then/now. In March 2018 she curated and co-produced Arab Voices: Stories of Palestine, which brought together three Arab-American playwrights with Lebanese and Palestinian actors to introduce their work to Beirut audiences at Dar el Nimer Center for Palestinian Art and Culture. Catherine is a member of The Lark Artistic Cabinet and serves on the advisory boards of The Mercurian translation journal, The Laboratory for Global Performance and Politics and Arab Stages.
أرصفة زقاق – المهرجان ٢٠١٨ يقدّم
ابتداءاً بالممثل
محاضرة مختصة
كاثرين كوري
الخميس ٨ تشرين الثاني الساعة ١١ صباحاً
المدة: ٤ ساعات
بدل المشاركة: ٢٥،٠٠٠ ل.ل
احجز(ي) مكانك عبر موقع ihjoz.com
لمزيد من المعلومات: ٠١٥٧٠٦٧٦
هناك علاقة أساسية ما بين الإندفاعات والتخُّيلات الخاصة بالممثل وتلك الخاصة بالكاتب المسرحي. هذه الورشة مخصصة للممثلين، الكتّاب المسرحييّن، والمخرجين الذين يرغبون بإستكشاف كتابة المشاهد والمونولوجات المستوحاة من العمل المُرتجل والتمارين المصممة للتحفيذ على تطوير العلاقة ما بين الشخصية والنص. تبدأ الجلسة بالإحماء الجسدي، لذلك على المشاركين أن يرتدوا الملابس المناسبة وأن يكونوا جاهزين للحركة، إضافة إلى تجهيز المواد اللازمة للكتابة: أوراق أو دفتر، قلم رصاص أو حبر، كمبيوتر محمول أو جهاز لوحي (وليس هاتف جوال).
كاثرين كوري هي جزء من هيئة التدريس في مدرسة تيش للفنون العليا في جامعة نيويورك منذ العام 1991. تدرّس وتتعاون مع فنّانين في النمسا، بيلاروسيا ، تشيلي، كوبا، مصر ولبنان. كما وتدرّس في جامعة نيويورك أبو ظبي وعملت كمديرة مؤقتة في برنامج المسرح في جامعة نيويورك أبو ظبي في عام 2016 – 2017. في السابق، كانت مديرة لـ hotINK at The Larkالذي عرّف جماهير نيويورك على أعمال مسرحية من أكثر من 50 دولة. وهي حالياً مديرة برنامج The Lark Middle East-US Playwright Exchange. في العام 2014، يسّرت مؤتمراً لنساء شرق أوسطيات يعملن في مجال المسرح، وذلك في مؤسسة جامعة نيويورك أبوظبي في مدينة نيويوك تحت إسم In The Same Room. وفي العام 2016، عقدت اجتماع الشرق الأوسط – أمريكا في The Lark، وفي تشرين الثاني 2016 قامت بتيسير والمشاركة بإنتاج مهرجان "أصوات عربية: هنا/هناك/سابقاً/الآن (Arab Voices: here/there/then/now)" وذلك في مركز الفنون في جامعة نيويورك أبوظبي في شرين الثاني. في أذار 2018، قامت بتيسير والمشاركة في إنتاج "أصوات عربية: قصص من فلسطين (Arab Voices: Stories of Palestine)" الذي جمع ثلاثة كتاب مسرحيّين عرب – أمريكيّين مع ممثلين لبنانيّين وفلسطينيّين بهدف تقديم أعمالهم لجمهور بيروت في مركز دار النمر للفن والثقافة الفلطسينية (Dar el Nimer). كاثرين هي فرد في المجلس الفني في The Lark، تعمل ضمن المجالس الإستشارية لمجلة الترجمة The Mercurian و The Laboratory for Global Performance و Politics و Arab Stages.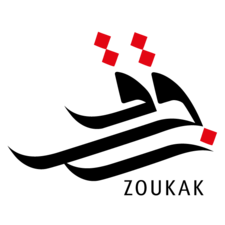 Organizer
Zoukak Theater Company, created in 2006, is a non-hierarchical structure, dedicated to theatre practice as a social and political involvement, with a belief in theatre as a space for common reflection and in collectivity as a position against marginalizing systems.
Zoukak's productions are created in series of common research raising questions around certain themes: gender -"Silk Thread" (2012), religion and power - "Lucena: Obedience Training" (2013), Lebanese history - "Perform Autopsy" (2013) and "Heavens" (2014), death and immortality - "He Who Saw Everything" (2015) and "Death Comes Through the Eyes" (2014), childhood and violence - "School Acts" (2014), "Organs Tissue and Candy Games" (2014) and "Innocent Violence" (2016), Migration - "The Battle Scene" (2015) among others… Their work has been shown in several cities in the Middle East, Europe, the United States, Africa and South Asia (MUCEM museum, 62 Center for Theatre and Dance, The New York Public Library, Ibsen Center, ITFOK, The Battersea Arts Center, The Southbank Center…).
They have been commissioned by international festivals, theatres and universities to create original work: NYUAD's Performing Arts Center, UAE; Krefeld/Monchengladbach City Theaters, Germany; Cynthia Woods Mitchell Center, University of Houston, Texas; Theaterfestival Schwindelfrei Mannheim, Williams College, Massachusetts; LIFT and The Royal Court Theatre, London among others. Zoukak members have participated in residencies, panels and given workshops and lectured at universities and in non-academic contexts, in the Middle East, Europe, the United States and Africa.
In addition to that Zoukak has been working with marginalized communities across Lebanon for the last ten years (disabled children, women victims of domestic violence, incarcerated youths, individuals affected by war, including refugees…), applying theatre on various levels. The company developed a specific approach to psychosocial interventions of drama therapy and socially engaged theatre, providing workshops and training programs to diverse groups, and devising performances in different Lebanese regions and in various contexts locally and abroad, including Calais' migrants and refugee camp, in France and in refugee camps in Serbia.
Zoukak endeavours to develop an environment of dialogue and reflection around the performing arts in Lebanon and to provide artistic development and international touring opportunities for local artists. The company produces collaborations, residencies and events with international artists in the company's studio, curating since 2013 "Zoukak Sidewalks", an international performance platform and "Focus Liban" a showcase for the diffusion of work by local emerging artists.
Zoukak is three-time AFAC award grantee, in 2012 the company received the Ibsen Scholarship award and in 2014 the Anna Lindh Foundation's Euromed Dialogue Award for social resilience and creativity.