Project Presentation: The Ho-Ha Dance
Friday, November 9, 2018 from 16:30 to 17:00
French Institute, Beirut, Lebanon
Tickets
Description
Zoukak Sidewalks 2018 - The Festival presents
The Ho-Ha Dance
Project Presentation
By Anas Younes
Friday 9 November 2018 at 4:30 p.m. at the French Institute
Free Entry.
As a part of Focus Liban, artists residing in Lebanon are invited to present their projects to a public of local and international curators.Anas Younes presents his project: "The Ho-Ha dance"
"The Ho-ha Dance" is a visual theatrical ritual where the audience is no longer a receiver, but rather an interactor with the future fateful question that is dealt with.
The performance moves from individual memory to collective memory regarding the case of the Native Americans, all the way to the Syrian people, via discussions and narratives about ideology, utopianism, anarchism, dystopia, characters, and historical events that are repeated periodically through time.
Credits:
Devised and Directed by: Anas Younes
Artistic Direction: Ghalia Saab
Text by: Anas Younes, Firas Hatem
Performed by: Younes Abou Khouzam, Firas Hatem, Yazan Jaber, Yassine Boukhari, Yassine Msallakh, Ghalia Saab,
Visual Identity: Mohamad Chaarani
Scenography: Mariam Semaan
Supported by: Zoukak Theatre Company's Theatre Mentorship Program and production Support Grant
Artist's Biography
Anas Youness is active in the civil society field and works in social drama, participatory theater, practical theater, and usages of non-violent theater in society. He is studying English Literature and Drama. He is a member of the theater company for psycho-social theater, Wasel (playback theater/improvisation theater/invisible theater/street theater). He is project coordinator of the interactive theater project within "Mobaderoon", and he's a founding member of Shababeek, a social theater company. He has been working in the field of Theater of the Oppressed since 2014 as a trainer for children and youth in the city of Damascus and its suburbs. He is also a puppeteer in the One Hand puppet troupe. The Hoha Dance is his first attempt in dramatic drafting, composition and conscripting.
أرصفة زقاق - المهرجان ٢٠١٨ يقدّم
رقصة الهو-ها
تقديم شروع
أنس يونس
الجمعة ٩ تشرين الثاني الساعة ٤:٣٠ مساءً في المعهد الثقافي الفرنسي
الدخول مجاني
يتكلم أنس يونس عن مشروعه المسرحي: رقصة الهو-ها
رقصة الهو-ها هو العرض مسرحي يهدف الى إعادة استحضار الذاكرة عن طريق الشخصيات والصور البصرية المنجزة خلال العرض، والانتقال من الذاكرة الشخصية للذاكرة الجماعية من قضية الهنود الحمر وصولا الى الذاكرة السورية عن طريق حوارات وسرديات دوامة الايديولجيا والطوباوية والاناركية والديستوبيا والشخصيات والاحداث التاريخية المعادة بشكل دوري عبر العصور
فريق العمل
اعداد واخراج أنس يونس
اخراج فني غالية صعب
تأليف أنس يونس / فراس حاتم
الممثلون يونس ابو خزام، فراس حاتم، يزن جابر، ياسين بخاري، ياسين مسلخ، يزن جابر، غالية صعب
الهوية البصرية محمد شعراني
سينوغراف مريم سمعان
بدعم من: برنامج زقاق الارشادي للمسرح ومنحة دعم الانتاج
عن أنس يونس
أنس يونس ناشط مجتمع مدني يعمل في مجال الدراما المجتمعية والمسرح التشاركي والتطبيقي واستعمالات المسرح اللاعنفي في المجتمع. يدرس أدب الأدب الإنجليزي والدراما. هو عضو في فرقة وصل للمسرح النفسي الاجتماعي (مسرح إعادة تمثيل / مسرح ارتجالي/مسرح غير مرئي /مسرح شارع)، منسق مشروع المسرح التفاعلي ضمن منظمة مبادرون، وعضو مؤسس في فرقة شبابيك للمسرح المجتمعي. يعمل في مجال مسرح المقهورين منذ عام ٢٠١٤ كمدرب مسرح أطفال ويافعين في دمشق وريفها. كما يعمل كمحرك دمى مع فرقة إيد واحدة لمسرح الدمى. تعد تجربة رقصة الهو ها تجربته الأولى في الاعداد والتأليف والصياغة الدراماتورجية.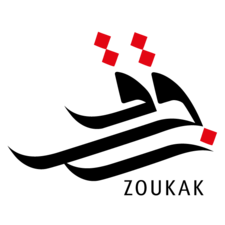 Organizer
Zoukak Theater Company, created in 2006, is a non-hierarchical structure, dedicated to theatre practice as a social and political involvement, with a belief in theatre as a space for common reflection and in collectivity as a position against marginalizing systems.
Zoukak's productions are created in series of common research raising questions around certain themes: gender -"Silk Thread" (2012), religion and power - "Lucena: Obedience Training" (2013), Lebanese history - "Perform Autopsy" (2013) and "Heavens" (2014), death and immortality - "He Who Saw Everything" (2015) and "Death Comes Through the Eyes" (2014), childhood and violence - "School Acts" (2014), "Organs Tissue and Candy Games" (2014) and "Innocent Violence" (2016), Migration - "The Battle Scene" (2015) among others… Their work has been shown in several cities in the Middle East, Europe, the United States, Africa and South Asia (MUCEM museum, 62 Center for Theatre and Dance, The New York Public Library, Ibsen Center, ITFOK, The Battersea Arts Center, The Southbank Center…).
They have been commissioned by international festivals, theatres and universities to create original work: NYUAD's Performing Arts Center, UAE; Krefeld/Monchengladbach City Theaters, Germany; Cynthia Woods Mitchell Center, University of Houston, Texas; Theaterfestival Schwindelfrei Mannheim, Williams College, Massachusetts; LIFT and The Royal Court Theatre, London among others. Zoukak members have participated in residencies, panels and given workshops and lectured at universities and in non-academic contexts, in the Middle East, Europe, the United States and Africa.
In addition to that Zoukak has been working with marginalized communities across Lebanon for the last ten years (disabled children, women victims of domestic violence, incarcerated youths, individuals affected by war, including refugees…), applying theatre on various levels. The company developed a specific approach to psychosocial interventions of drama therapy and socially engaged theatre, providing workshops and training programs to diverse groups, and devising performances in different Lebanese regions and in various contexts locally and abroad, including Calais' migrants and refugee camp, in France and in refugee camps in Serbia.
Zoukak endeavours to develop an environment of dialogue and reflection around the performing arts in Lebanon and to provide artistic development and international touring opportunities for local artists. The company produces collaborations, residencies and events with international artists in the company's studio, curating since 2013 "Zoukak Sidewalks", an international performance platform and "Focus Liban" a showcase for the diffusion of work by local emerging artists.
Zoukak is three-time AFAC award grantee, in 2012 the company received the Ibsen Scholarship award and in 2014 the Anna Lindh Foundation's Euromed Dialogue Award for social resilience and creativity.