Performance: The Confession
Friday, November 9, 2018 from 18:00 to 19:40
The Palace Theatre, Beirut, Lebanon
Tickets
Venue
The Palace Theatre
Aresco Center, Justinian Street
Beirut, Lebanon
Directions
Following the road towards Hamra main street , after the Haigazian University and before the BDL, The Palace Theatre is located at Aresco Centre, Justenian Street (to the left going down towards Clemenceau) exactly at the intersection of Hamra - Clemenceau
Description
Zoukak Sidewalks 2018 - The Festival presents:
The Confession
Performance
By Abdallah al Kafri
Friday 9 of November 2018 at 6:00 p.m. at the Palace, Beirut
Free Entry.
Synopsis
The regime decides to abandon the services of officer Jalal during the years of stable government control, and then asks him to return to service after a popular uprising in the country.
This offer awakens Jalal's former desire to regain the power he was accustomed to practicing for many years. Jalal wanted to forget the years after the regime abandoned him and after spending years with his nephew Omar.
Abdallah al Kafri, promising theater director, is preparing a new play based on the famous Death and the maiden by the Argentinian playwright Ariel Dourphman, that revolves around an ambiguous encounter between a previous prisoner and executioner.
The play, entitled The Confession takes us into the realities of one day of Jalal's life, who faces his past and his new choices.
Credits
Writer: Wael Kadour
Director: Abdullah Alkafri
Performed by Hamza Hamadeh, Jamal Saloum, Oussama Halal, Suha Nader, Shadi Moqresh
Scenographer: Karam Abu Ayash
Original Music Composer: Abed Kobeissy
In addition to fragments from the string quartet no.14 in D minor op. posth D.810 "Death and The Maiden" composed by Franz Schubert, performed by the Alban Berg quartet
Video Work: Noor Salman
Artistic Collaboration: Eric Deniaud, Chrystele Khodr, christine Youakim, Ariane Langlois
Production Management: Marwa Chehadi
English Translation: Hassan Abdulrazzak
Visual Materials Design: Abraham Zeitoun – Be:Kult
Promotional Materials: Amr Koukach
French Translation: Chrystele Khodr
Stage Manager: Hassan Akkol
Implementation of Model (Maquette): Fares Khalif
Set Executer: Abdul Qader Al Abdullah
English Translation commissioned by Catherine Coray, Director of The Lark Middle East-US Playwright Exchange, with support from New York University Abu Dhabi.
This performance was produced by a grant from the Culture Resource and the KKV –Arab Fund for Arts and Culture
This performance was developed within an Artist residency at Hammana Artist House and with the support of Koon Studio
أرصفة زقاق - المهرجان ٢٠١٨ يقدّم
الاعتراف
عرض مسرحي
عبدالله الكفري
الجمعة ٩ تشرين الثاني الساعة ٦:٠٠ مساءً في مسرح البالاس، بيروت
الدخول مجاني.
يتخلى النظام الحاكم عن خدمات الضابط جلال خلال سنوات استقرار الحكم، ليعود ويطلب منه الالتحاق مجدداً بعد اندلاع حراك شعبي في البلاد.
يوقظ هذا العرض رغبة جلال الدفينة في إعادة استملاك النفوذ الذي اعتاده لسنوات طويلة. دأب جلال على نسيان السنوات التي تلت تخلي النظام عن خدماته والتي امضاها برفقة ابن أخته عمر. عمر مخرج مسرحي وعد يعمل على مسرحية الموت والعذراء للأرجنتيني آرييل دورفمان؛ مسرحية تدور حول لقاء غامض بين جلاد وسجين سابق.
تأخذنا مسرحية الاعتراف إلى وقائع يوم واحد من حياة جلال الذي يواجه ماضيه وخياراته الجديدة.
نص: وائل قدور
إخراج: عبدالله الكفري
أداء: أسامة حلال، جمال سلوم، حمزة حمادة، سهى نادر، شادي مقرش
سينوغرافيا: كرم أبو عياش
تأليف موسيقي: عبد قبيسي
مع تفاصيل من تسجيل لرباعي الوتريات رقم ١٤ د.٨١٠ "الموت والعذراء" تأليف فرانز شوبيرت، أداء رباعي آلبان بيرغ
فيديو: نور سلمان
تعاون فني: إريك دينو، كريستيل خضر، كريستين يواكيم، أريان لونغوا
إدارة إنتاج: مروى شحادي
مدير خشبة: حسن عقول
تصميم المواد البصرية: أبراهام زيتون- Be:Kult
ترجمة للغة الانكليزية: حسن عبد الرزاق
ترجمة للغة الفرنسية: كريستيل خضر
تصوير ومادة ترويجية: عمرو كوكش
تنفيذ ماكيت: فارس خليف
منفذ ديكور: عبد القادر العبدالله
تم انتاج هذا العمل ب بفضل منحة من المورد الثقافي وKKV - الصندوق العربي للثقافة والفنون.
تم تطوير هذا العرض ضمن إقامة فنية في بيت الفنان حمانا وبدعم من استديو كون.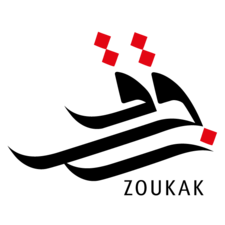 Organizer
Zoukak Theater Company, created in 2006, is a non-hierarchical structure, dedicated to theatre practice as a social and political involvement, with a belief in theatre as a space for common reflection and in collectivity as a position against marginalizing systems.
Zoukak's productions are created in series of common research raising questions around certain themes: gender -"Silk Thread" (2012), religion and power - "Lucena: Obedience Training" (2013), Lebanese history - "Perform Autopsy" (2013) and "Heavens" (2014), death and immortality - "He Who Saw Everything" (2015) and "Death Comes Through the Eyes" (2014), childhood and violence - "School Acts" (2014), "Organs Tissue and Candy Games" (2014) and "Innocent Violence" (2016), Migration - "The Battle Scene" (2015) among others… Their work has been shown in several cities in the Middle East, Europe, the United States, Africa and South Asia (MUCEM museum, 62 Center for Theatre and Dance, The New York Public Library, Ibsen Center, ITFOK, The Battersea Arts Center, The Southbank Center…).
They have been commissioned by international festivals, theatres and universities to create original work: NYUAD's Performing Arts Center, UAE; Krefeld/Monchengladbach City Theaters, Germany; Cynthia Woods Mitchell Center, University of Houston, Texas; Theaterfestival Schwindelfrei Mannheim, Williams College, Massachusetts; LIFT and The Royal Court Theatre, London among others. Zoukak members have participated in residencies, panels and given workshops and lectured at universities and in non-academic contexts, in the Middle East, Europe, the United States and Africa.
In addition to that Zoukak has been working with marginalized communities across Lebanon for the last ten years (disabled children, women victims of domestic violence, incarcerated youths, individuals affected by war, including refugees…), applying theatre on various levels. The company developed a specific approach to psychosocial interventions of drama therapy and socially engaged theatre, providing workshops and training programs to diverse groups, and devising performances in different Lebanese regions and in various contexts locally and abroad, including Calais' migrants and refugee camp, in France and in refugee camps in Serbia.
Zoukak endeavours to develop an environment of dialogue and reflection around the performing arts in Lebanon and to provide artistic development and international touring opportunities for local artists. The company produces collaborations, residencies and events with international artists in the company's studio, curating since 2013 "Zoukak Sidewalks", an international performance platform and "Focus Liban" a showcase for the diffusion of work by local emerging artists.
Zoukak is three-time AFAC award grantee, in 2012 the company received the Ibsen Scholarship award and in 2014 the Anna Lindh Foundation's Euromed Dialogue Award for social resilience and creativity.