Dance Performance: Et Pourtant Elle Tourne
Friday, November 2, 2018 from 21:00 to 22:00
Zoukak Studio , Beirut, Lebanon
Tickets
Description
Zoukak Sidewalks 2018 - The Festival presents:
Et Pourtant Elle Tourne
Dance performance
By Taoufiq Izzediou and Sharif Sehnaoui
Friday 2 November 2018 at 9:00 pm at Zoukak Studio, Beirut
Tickets: 25,000 L.L.
Tickets available at ihjoz.com and at the door
Free Entry for students (upon presenting their Student ID), unemployed citizens, migrant domestic workers and people working in the artistic field (artists, technicians, administrators...). Those benefiting from the free entry are asked to show at the venue 30 minutes before the start of the event.
Synopsis
This "compact" performance is a collaboration between Moroccan choreographer Taoufiq Izzediou and Lebanese musician Sharif Sehnaoui.
It was first commissioned by d'AFAC (Arab Fund for Arts and Culture) in novembre 2017 on the occasion of their 10th year anniversary. Since both artists are equally festival directors in their own country, an important aspect of the piece revolves around the difficulties and obstacles artists and institutions face in the Arab world, but most importantly what keeps them going nevertheless.
The duo thus develops a unique piece where music and movement share equal status, reclaiming strong elements of popular culture: dabkeh rythms, maqam, traditional chants and rice.
Credits
Dance & voice: Taoufiq Izzediou
Electric & acoustic guitars: Sharif Sehnaoui
Artists' Biography
Taoufiq Izeddiou is a choreographer and dancer. He is a central figure of the dance scene in Morocco where he directs Anania Company and the contemporary dance festival "On Marche".
Sharif Sehnaoui is a free improvising guitarist. In Lebanon, he actively contributed to the emergence of an unprecedented experimental music scene. Along with Mazen Kerbaj he created "Irtijal" (www.irtijal.org) in 2000, a yearly international festival that is the oldest improvised and new music festival in the Arab world. He also runs two record labels: "Al Maslakh" (www.almaslakh.org) devoted to "publish the un-publishable" on the Lebanese musical scene. And "Annihaya" (www.annihaya.com), focusing on sampling, recycling and the displacement of various aspects of popular culture.
أرصفة زقاق – المهرجان ٢٠١٨ يقدّم
ولكنها تدور
عرض موسيقي راقص
شريف صحناوي وتوفيق إزديو
الجمعة ٢ تشرين الثاني الساعة ٩ مساءً في استديو زقاق
البطاقات: ٢٥،٠٠٠ ل.ل
البطاقات متوافرة عبر موقع ihjoz.com وعند مدخل الاستديو


البطاقات: ٢٥،٠٠٠ ل.ل
البطاقات متوافرة عبر موقع ihjoz.com وعند مدخل الاستديو
الدخول مجاني للطلاب (عند إبراز بطاقة الطالب) و لعاملات المنازل المهاجرات وللمواطنين العاطلين عن العمل وللعاملين في مجال الفن (فنانين، تقنيين، إدارة فنية...) . الرجاء من المستفدين من الدخول المجاني، الحضور الى الموقع قبل نصف ساعة على الأقل من بدء العرض.
عن العرض:
هذا الأداء الموجز هو نتيجة تعاون بين مصمم الرقص المغربي توفيق إزديو والموسيقي اللبناني شريف صحناوي. وكان قد فوض الفنانين الصندوق العربي للثقافة والفن - آفاق - في تشرين الثاني عام ٢٠١٧ بمناسبة الذكرة العاشرة لتأسيسه. ويجدر الذكر أنا كل الفنانين يديران مهرجان في بلدهم. ويظهر ذلك واضحاً في هذا العرض، إذ يتمحور جزء كبير منه حول الصعوبات التي يواجهها الفنانون والمؤسسات في العالم العربي، والجزء الآخر حول الأسباب التي تدفعهم إلى المثابرة في العمل.
فهكذا خلق الثنائي هذا العمل الفريد حيث تتقاسم الحركة والموسيقى المساحة، مستعيدين عناصر أساسية من الثقافة الشعبية: إيقاعات الدبكة والمقام والأناشيد التقليدية والأرزّ!
فريق العمل:
توفيق إزديو: صوت، رقص
شريف صحناوي: غيتار كهربائي، وغيتار صوتي
عن توفيق إزديو:
راقص ومصمم رقص. يشكل شخصية مركزية في المشهد الراقص المغربي، إذ يدير Anania Cie ومهرجان الرقص المعاصر .On Marche
عن شريف صحناوي
عازف غيتار ارتجالي. جاهد صحناوي في نشوء مشهد للموسيقى التجريبية في لبنان؛ إذ قام بتنظيم عام ٢٠٠٠، مع مازن كرباج، النسخة الأولى ال"إرتجال"، وهو أقدم مهرجان دولي للموسيقى الارتجالية في العالم العربي. احتفل "إرتجال" عام ٢٠١٥ بالذكرى السنوية الخامسة عشر. يدير صحناوي شركتي إنتاج. احدهما، "المسلخ" المخصصة لإصدار ما لا يعتبر قابلاً للنشر على الساحة الموسيقية اللبنانية؛ والثانية، ال"نهاية"، المتخصصة بإعادة تدوير جوانب مختلفة من الثقافة الشعبية.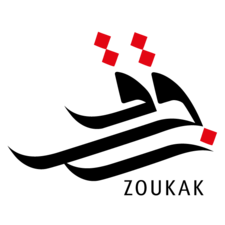 Organizer
Zoukak Theater Company, created in 2006, is a non-hierarchical structure, dedicated to theatre practice as a social and political involvement, with a belief in theatre as a space for common reflection and in collectivity as a position against marginalizing systems.
Zoukak's productions are created in series of common research raising questions around certain themes: gender -"Silk Thread" (2012), religion and power - "Lucena: Obedience Training" (2013), Lebanese history - "Perform Autopsy" (2013) and "Heavens" (2014), death and immortality - "He Who Saw Everything" (2015) and "Death Comes Through the Eyes" (2014), childhood and violence - "School Acts" (2014), "Organs Tissue and Candy Games" (2014) and "Innocent Violence" (2016), Migration - "The Battle Scene" (2015) among others… Their work has been shown in several cities in the Middle East, Europe, the United States, Africa and South Asia (MUCEM museum, 62 Center for Theatre and Dance, The New York Public Library, Ibsen Center, ITFOK, The Battersea Arts Center, The Southbank Center…).
They have been commissioned by international festivals, theatres and universities to create original work: NYUAD's Performing Arts Center, UAE; Krefeld/Monchengladbach City Theaters, Germany; Cynthia Woods Mitchell Center, University of Houston, Texas; Theaterfestival Schwindelfrei Mannheim, Williams College, Massachusetts; LIFT and The Royal Court Theatre, London among others. Zoukak members have participated in residencies, panels and given workshops and lectured at universities and in non-academic contexts, in the Middle East, Europe, the United States and Africa.
In addition to that Zoukak has been working with marginalized communities across Lebanon for the last ten years (disabled children, women victims of domestic violence, incarcerated youths, individuals affected by war, including refugees…), applying theatre on various levels. The company developed a specific approach to psychosocial interventions of drama therapy and socially engaged theatre, providing workshops and training programs to diverse groups, and devising performances in different Lebanese regions and in various contexts locally and abroad, including Calais' migrants and refugee camp, in France and in refugee camps in Serbia.
Zoukak endeavours to develop an environment of dialogue and reflection around the performing arts in Lebanon and to provide artistic development and international touring opportunities for local artists. The company produces collaborations, residencies and events with international artists in the company's studio, curating since 2013 "Zoukak Sidewalks", an international performance platform and "Focus Liban" a showcase for the diffusion of work by local emerging artists.
Zoukak is three-time AFAC award grantee, in 2012 the company received the Ibsen Scholarship award and in 2014 the Anna Lindh Foundation's Euromed Dialogue Award for social resilience and creativity.