ActionCLUB (Business Owners' Growing their Business)
From Thursday, March 2, 2017 17:30 to Thursday, July 6, 2017 21:00
The SmallVille Hotel, Beirut, Lebanon
Tickets
Description
ActionCLUB
Business Owners' Growing their Business
Do you want to make a big difference in your business? But... You cannot afford time and investment in the 1-on-1 business coaching system?
Would you like to network with business owners alike people? Share lessons learned and solutions to business problems?
Tired of simply surviving in business? Are you ready to take more cash, win more deals, dramatically improve your bottom line and, to put it bluntly, get your business back on track, then ActionCLUB is for you.
In just 10 sessions, you'll have the tools and strategies you'll need to guide your business to higher profits and greater levels of success. You'll get an edge over the competition. And you'll discover what thousands of other business owners already know about the impact ActionCLUB has had on their companies.
Who: business owners, general managers, business partners, CEOs, etc.

When: First session on

2 March 2017

and every other week thereafter

Time

:

5:30 pm - 8:30 pm

Your Investment: US$500 per participant per month.

Where:

The SmallVille Hotel - Badaro
Here's What You
WILL
Learn
FocusRICH or Setting your FUTURE - During this session you will set your goals, your company's vision and mission statement and you'll learn how to build a great business from the foundation up.
The 5 WAYS - Learn the 5 ways to boost the your bottom line by 61%.
CashRICH - This session will teach you about the importance of understanding your financials. This is the key to knowing where your cash comes from and goes to...and how to keep some of it! You'll learn how to read your financial statements, the cash flow cycle and how to achieve more than just a breakeven!
MarketingRICH - You will extract your uniqueness—that which sets you apart from your competitors—and learn how to use it to get more of the customers you want. You will learn about developing customer loyalty so that these customers keep coming back, time after time. We will work together on a simple marketing plan that is actionable.
SalesRICH -

You'll learn all about the different types of salespeople and the difference between old selling and new. You will get to understand the question funnel, performance standards, phone power and how to handle objections.

TeamRICH - Learn how to become a great leader to inspire them each and every day. Learn how to recruit great people and lead them to a business that works without you even needing to be there.
ServiceRICH - This session is about client fulfillment. Now you have done all the hard work to get them, it's critical to keep them. You will learn about developing customer loyalty so your customers keep coming back… time after time.
90 Day Planning - Create your 90 Day planning session. This is where you get to formulate your own plan for the next business period.
SystemsRICH - Learn how to create systems that run your business to produce massive results. Learn how to work ON your business, not IN it.
Leverage - The Board Game - This is where you have fun putting into practice what you've learned.
Contact ActionCOACH for more information on our next ActionCLUB workshop. Just call 03-719199 or email gabyawad@actioncoach.com
Who we have qworked with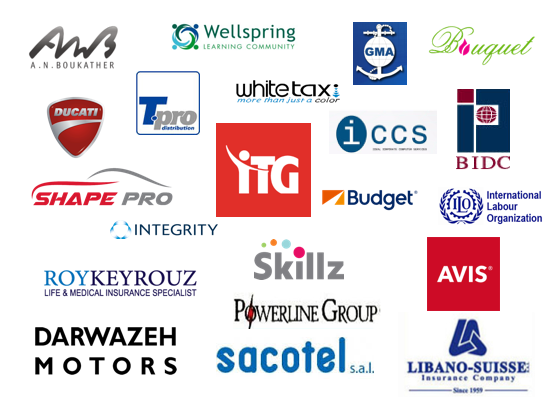 HERE'S WHAT RECENT ATTENDEES ARE SAYING
How do I register?
You can then easily register using the Ihjoz online registration facility or just give us a ring on +961.3.719199 or drop us an email on gabyawad@actioncoach.com